Anna Barnett Cooks | Spring Brunch Recipes
Introducing a series of unique recipes alongside an interview with the ever-inspiring chef and food-writer Anna Barnett. To celebrate the launch of our salad bowls and limited edition colours, Anna hosted a brunch with friends at her newly renovated home in East London using Falcon Enamelware. Food has always played a big part in Anna's life, so we asked her to tell us more about her influences and how she got into doing what she loves.
Recreate some of her standout recipes, including Baked Turkish Eggs, Sticky Maple Coffee Waffles and Baked Oatmeal With Berries.

Anna, can you tell us about your background?
I started out working in TV at 18, working for MTV, then Channel 4, T4 and Popworld doing everything from event organising to talent booking. I then moved into fashion working at House of Holland. Food, however, always played a huge part of my life. I cooked for housemates, friends, family and extended family. There would also be a flat full (we had a huge warehouse space) and we filled it often and fed everyone that visited. I hosted supper clubs and catered for anything and everything. I released my first cookery book 'Eat the Week' in 2015 and released a second last year 'How to be Gluten Free and Keep Your Friends' whilst also providing weekly recipe content for Grazia. I've now been freelance for almost four years and spend my time writing for the Evening Standard, sharing recipes, interviewing cookery book authors and compiling food and travel pieces too. I cater, host and collaborate with a lot of brands so life is brilliantly varied.

You recently hosted a beautiful brunch to celebrate the launch of our new salad bowls and Spring colours, can you tell us a bit about the menu?
The menu I compiled was really based around demonstrating how Falcon enamelware can be used in a variety of ways. So we baked oats with fresh fruit and served up gorgeous brunch bowls of cheese, truffled honey and prosciutto as well as baked mini rhubarb meringue pies. I wanted to really explore and make the most out of the versatility of the Falcon products.
What was your favourite dish you made using the Falcon Enamelware range and why?
I'm hooked on the Turkish style eggs. We served both fried and poached eggs in a rich garlic and black pepper yogurt with the most addictive sundried tomato sumac and Turkish chilli flake drizzle finishing the dish with fresh dill, pickled shallots and a healthy side of sourdough. For me, it's a dish that ticks all the boxes. Serving this in the large Falcon Salad Bowl is perfect when feeding a crowd and means there's plenty of room to pile it high and pack it full of incredible flavours. You can feed a huge crowd with one bowlful too!
Do you have any tips for cooking en masse with Falcon this Spring/Summer?
I love keeping dining informal so the large and medium Salad Bowls (plus the rest of the range) work perfectly for this. The best advice I can give is to pick your menu wisely and incorporate as many dishes as possible that can be made well in advance. You can then enjoy the party as much as your guests and be that easy, breezy and relaxed host.
If you could invite 8 dream dinner guests - who would they be and why?  
The Obamas, Micky Flanghan, Adam Sandler, Deborah Frances-White, Julia Davis, Massimo Bottura and George Michael. This isn't as easy as I thought it would be but the ultimate dinner party needs an eclectic mix of characters and these are just that!
Where is your favourite summer hang-out in London and why?
Richmond is incredible in the Summer. Last year we paddle boarded along the Thames and loved it every minute of it. A spot closer to home is the newly refurbed London Fields lido, though getting there early to avoid the crowds is essential in the Summer!
You're just finishing renovating your incredible new home, could you tell us where you got some of your inspiration for this?
I think I was led by how we wanted to use the space and the lifestyle we wanted in it. We renovated and worked from the kitchen space out. That was always going to be the heart of our home. I'm launching cookery classes this July so I knew I wanted a big island but equally wanted an open space to allow for easy entertaining. We wanted a calm and minimalist space yet something that felt a bit timeless and still like a home. Instagram and Pinterest are both great sources of inspiration when doing your research.
Can you name a place that feeds your imagination? 
I adore New York. That moment you arrive and see Manhattan in all its glory is always as special as the last. The food scene is incredible as well and I always research and reserve my dinners well in advance!
Can you give any tips on the best places to eat, drink, source ingredients in London at the moment?
I tend to source most of what I cook locally to me. So Broadway Market is great on a Saturday for incredible organic fruit and veg. We have Fin & Flounder for fresh fish, Hill & Szrok for meat or Ginger Pig. I also love our local Turkish shop Umuts which always has the most incredible bounty of fruit and veg, ten varieties of tomatoes, big bundles of fresh herbs… anything you need, that shop has it. Le Bouche is also great for cheese. When it comes to eating out, I love Lardo for pizza and pasta, Uchi for sushi, Campania on Columbia Road for more pasta and Brat for just an incredible meal out. Rochelle Canteen is perfect for an understated but delicious lunch. For drinks I always love a cocktail or two at Bistrotheque otherwise I like hanging out at our local pubs of which there are plenty!
What's the most important piece of advice you have been given?
Give it a try, what's the worst that can happen?! It's all for the taking.
Featured Products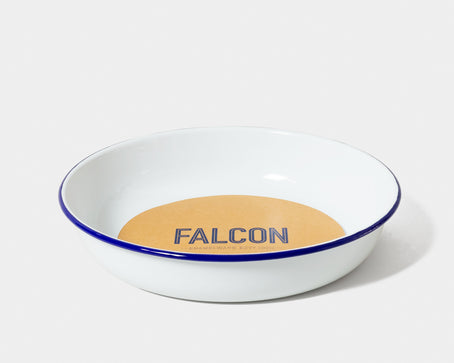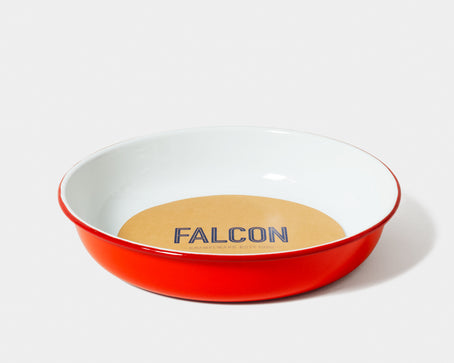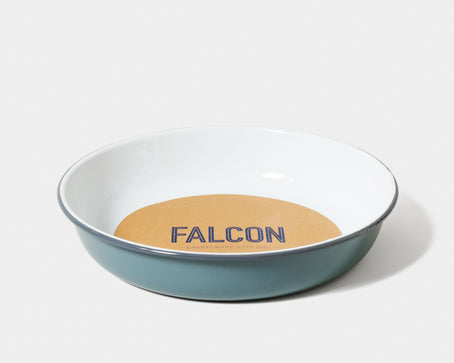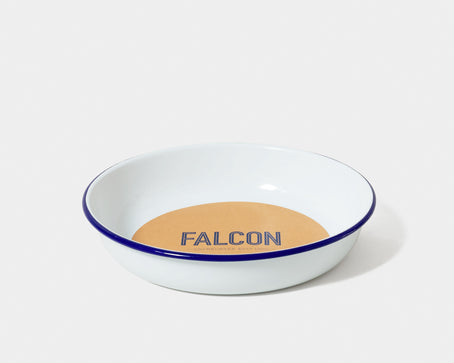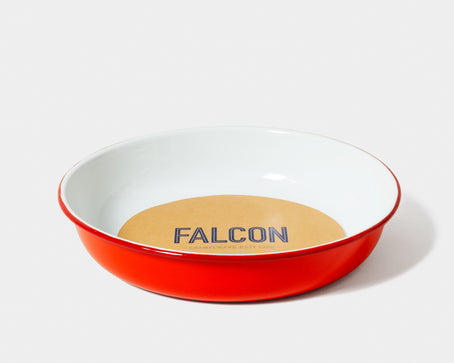 BAKED TURKISH EGGS
Ingredients
180ml extra thick Greek yogurt
½ clove of garlic – finely grated
several turns of freshly ground black pepper
4-8 Heritage breed eggs – poached or fried
4 generous glugs of rapeseed oil
1 clove of garlic – grated
3 tsp of sun-dried tomato paste
2 tsp of sumac
1 tsp of Turkish chilli flakes
1 fresh red chilli – finely chopped
generous sprinkle of sea salt flakes

2 banana shallots – finely sliced into rings
generous glug of red wine vinegar – enough to cover shallots
squeeze of ½ lemon (use zest for garnishing)
3 tbsp of sesame seeds – lightly toasted until golden
2 fresh kaffir lime leaves – very finely sliced
Several sprigs of dill
zest of ½ lemon
Method
Begin by combining the Greek yogurt, garlic and seasoning and set to one side.
In a frying pan, combine the rapeseed oil, 1 grated garlic clove, tomato paste, sumac, chilli flakes, fresh chilli and a generous sprinkle of sea salt flakes to make the Chilli flake drizzle. Taste and adjust spice and seasoning according to your preference. Set to one side until ready to serve. (I like to triple the recipe and have some to hand to add to pretty much everything.)
Prepare shallots, slicing into fine rings then cover with red wine vinegar and lemon juice until ready to serve.
Prepare your garnishes, lightly toasting the sesame seeds in a dry frying pan until golden. Finely slice your kaffir lime leaves.
For the poached eggs, bring a large pan of water to a simmer. Gently pour in the egg, cook for 2 minutes then turn off the heat and allow to continue to cook for a further 8-9 minutes (if making a large batch, transfer to a bowl of ice water to ensure they don't over cook.)
Using a large flat bowl or platter, spoon on the thick Greek yogurt and spread over then place the poached eggs in amongst the yogurt. Pour over the Turkish chilli flake drizzle then scatter over garnishes. Finish with a little extra black pepper. Serve at room temperature with fresh sourdough.
BAKED OATMEAL WITH BERRIES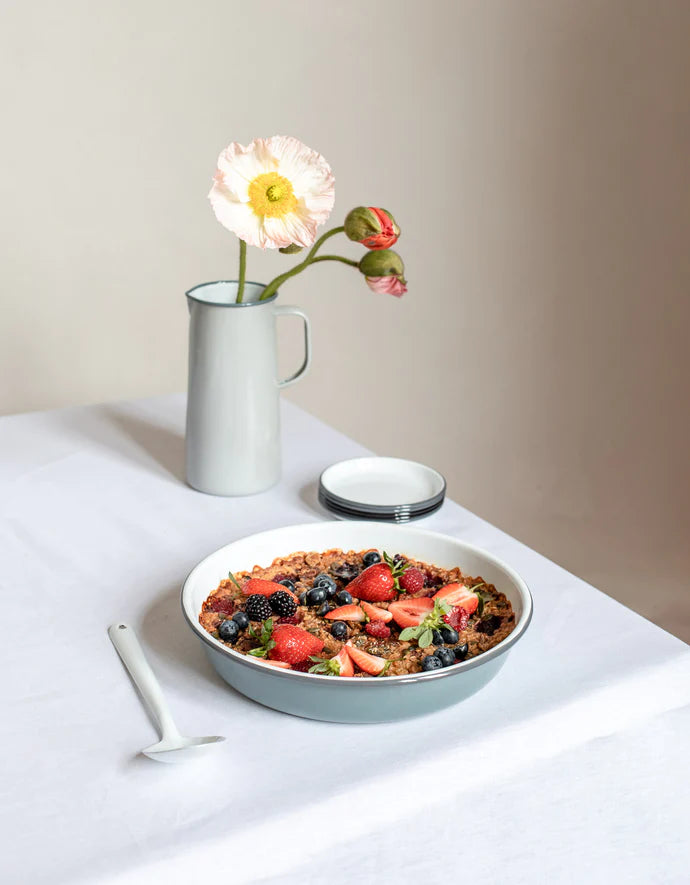 Ingredients
250g giant rolled oats
A handful of pecans
60g light brown sugar or maple syrup
1 tsp baking powder
1 tsp cinnamon
¼ tsp nutmeg
A sprinkle of sea salt flakes
800ml coconut/almond milk

1 large free range egg
65g melted butter
1 tsp vanilla bean paste
200g mixed berries or seasonal fruit
60g pumpkin seeds
2 tbsp brown sugar
Extra fresh fruit- optional
Method
1. Preheat the oven to 190 degrees Celsius.
2. Butter your baking dish, a dish around 18-20cm wide is perfect.
3. Combine the dry ingredients by mixing together your oats, pecans, sugar or maple syrup, baking powder, cinnamon, nutmeg and salt.
4. In another bowl combine the wet ingredients by mixing together your milk, eggs, butter and vanilla bean paste.
5. Pour in the oat mixture then scatter over half of the berries followed by the wet mixture. Take a spoon and gently mix. Finish with the remaining fruit.
6. Bake for around 30-40 minutes until the oats have set. Five minutes prior to removing from the oven scatter over a little brown sugar and allow to turn a light golden brown colour before removing from the oven. Serve warm as is or add a little extra fresh fruit.